What's Up:
Semi-retirement has given me more options to really pursue other interests. I became hooked on boating after motor yachting the coast of Maine with friends. That led to yacht charters; captains' certification courses and involvement with the U.S. Coast Guard Auxiliary. Living on the second fairway of our golf course provides plenty of incentive to improve my handicap. So far it's an uphill climb! Speaking of climbing, we enjoy mountain hiking. Our travel often includes nice unique resorts, good food & wine, great scenery and water, mountains or golf. Always in search of another good book....both historical non-fiction and thrillers. I've also been involved with our homeowners' association since we moved to the Pinehurst area a little over ten years ago.

My Occupation:
After graduating from CSU, I began a teaching career in the Cherry Creek School system. I moved to Cherry Creek's central office and became the district's labor contract negotiator. Missing life in a school building, I reconnected by becoming Assistant Principal of Overland High School. Along the way, I completed my Masters and Doctoral degrees. In 1995 I returned to Jefferson County and became Principal of Bear Creek High School, retiring in 2000. Before long I found myself in a part time position in Jefferson County's central office. I'm part of the Employee Relations group, counseling administrators on a wide variety of management issues.


My Family:
I've been married for 34 years to another Wheat Ridge graduate, Susan (Owen) class of '67. We have no children, although we have often treated our cats & dogs like children. We're proud of our three nieces and three nephews.

My father passed away in 1988, but my mother, Virginia, is still living. She resides at the Westland Meridian.

We lost my oldest brother, Mike, in 1986. My sister, Janet ('69), lives in Evergreen where she and her husband have been in the custom home business. My youngest brother, Tom ('70), is currently in Houston after spending much of his career outside the U.S. in the oil business.
Favorite Memories:
They include: concert choir; participating on the wrestling team; the KIMN top school contest; my friend, Skip Butler, (with sadness at his passing); historical events that marked our lives like JFK's assassination and Viet Nam. Both the good & bad were part of a special time in my life.
Back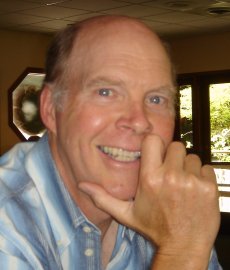 July 2005